Logs, floating trash, water-hyacinth, frazil-ice and sheet-ice block spill gates, clog water intakes, create dangerous surface conditions and are costly to cleanup. Floating debris results in lost generation revenue. More importantly it has the potential to cause serious dam safety risks. For nearly 20-years, Worthington has been trusted by dam owners in 62-countries to design and supply proven debris, ice and trash control solutions. No matter the location. No matter the severity. You can rely on Worthington to deliver proven debris control solutions.
Proven Debris Control Solutions
One size does not fit all. That is why Worthington offers a range of debris control solutions from standard off the shelf systems like our TUFFBOOM® barriers, to engineered systems like the impressively large TUFFBOOM-XL® and BoatBuster-20® series heavy duty debris barriers. Our trained barrier experts have seen a lot. We know what questions to ask and we will seamlessly guide you through the process to get the best barrier at lowest total cost of ownership.
The 2000-ft (610m) long TUFFBOOM® debris barrier at Red Rock Dam in northwestern, Ontario is a combined debris & safety barrier installed around 2006. This barrier is exposed to bone-chilling winter temperatures down to -40F (-40c) and 3-ft (1m) thick ice in the winter.
Ice in the frozen north to floating hyacinth mats in Brazil, Worthington uses our global experience to improve your local experience. From concept to design, supply and installation, we offer you the most solid, proven experience available.
Floods, Hurricanes & Wildfires
Natural disasters have terrible impacts on dams and watersheds. Wildfires leave huge burn scars littered with woody debris on steep reservoir slopes. The first rainfall carries all this debris into reservoirs to clog water intakes, close-off recreation and create potentially dam-threatening safety conditions. Worthington log-booms control and corral these floating debris mats. Our large on-hand inventory give us rapid response capabilities.
TUFFBOOM® barriers come in our standard 16-in diameter by 10-ft long (41cm x 3.05m) floats for typical debris problems. For larger debris fields, higher surface velocities and generally tougher site conditions turn to our TUFFBOOM-XL® measuring 24-in diameter x 15-feet Long (61cm x 4.5m). Our barrier experts will guide you through the process to choose what will work best for your site.
BoatBuster-20® is an entire series of customized high-strength debris and ice booms based on utilizing the hi-buoyancy BoatBuster® floats for flotation. BoatBuster-20® typically comes in 20-foot (6.1m) lengths and includes site specific options including submerged rigid debris screens and nets, personnel walkways, solid or mesh style debris panels, sign mounts, fine-debris inter-panels and more. Click on the more info button below to receive full specifications, product data and drawings.
Worthington is a waterway barrier company providing solutions to a global audience with diverse needs. Our steel pontoons are commonly used as ice booms in the most formidable climates. Each ice boom system is custom designed to site specific conditions. Sizes range from 18" (46cm) up to 42" (107cm) diameters and unit lengths up to 50-feet (15m). Lifting eyes, underwater curtain extensions, foam fill, drainage and pressure fittings all signify these as the high quality and durability dam owners have come to expect from Worthington.
Public Safety Boat Barriers
Public Safety Around Dams
Public Safety At Dams is important for this single reason: Lives are saved. Dam safety is traditionally associated with protecting the public from catastrophic dam failure. However, more lives are lost each year due to peoples interactions around dams. People are often simply unaware of the dangers. Dam owners are responsible for the safe operation and maintenance of their dams. This includes implementing appropriate public safety measures including signage, booms, buoys and audible devices. Worthington understands the dangers and risks. We offer a full compliment of public safety booms, buoys and signage to meet your public safety needs. Not sure where to start? We can help. Our barrier experts are constantly trained in the latest best practices for public safety at dams.
Booms, Buoys, Safety Floats
Rundle Dam, located at the entrance to the beautiful Banff National Park in Alberta, Canada, is part of TransAlta's Spray System which generates 73,000 megawatt hours of clean, renewable, hydroelectric energy each year. TransAlta's commitment to the Canadian Dam Association Guidelines for Public Safety Around Dams is in full view at Rundle. Proper danger and warning signs abound and a Worthington TUFFBOOM® public safety boat barrier safeguards the public from the dangerous water intakes at the headpond intake structures. Worthington offers solutions for headpond and tailrace areas as well as special solutions for Low Head Dams.
Holtwood Tailrace Barrier
Holtwood is a 55-foot-high dam across the Susquehanna River in southeast Pennsylvania. When a new 125-megawatt powerhouse was completed in 2013, the owner needed a solution to keep fisherman out of the dangerous tailrace zone. They came to Worthington with this challenge; "design a robust barrier to stand up to the turbulent high veocity water exiting the powerplant while providing sufficient buoyancy to function as a positive downstream boat barrier. Worthington answered with our BoatBuster-HD® barrier float measuring 4-feet (1.2m) diameter by 6-feet (1.8m) long and boasting a load capacity in excess of 200,000 lbs (91,000 kgs).
TUFFSign™ - Floating Barriers
Low Head Dams and weirs are called killing machines. When flow conditions hit a certain stage these dams develop a boil zone that traps anyone and anything. Placing a solid boom line upstream of many low head dams is not an option due to flow, debris and ice issues. TUFFSign™ is a low-draft floating barrier that allows floating trash, debris and ice to pass unimpeded. A double row of cable provides an arrest point for drifting boats and a grab point for distressed swimmers. The high buoyancy floats functions as a safety platform where an individual can await rescue. String across a large river or pond. Mount warning and danger signs to provide added levels of public safety.
TUFFBOOM® is the worlds first polymer log boom celebrating its 25th anniversary in 2019. Today's TUFFBOOM are stronger, more durable and loaded with 25 years of lessons learned. Standard TUFFBOOM's feature load capacities to 130,000 lbs (59,000 kgs), while the larger TUFFBOOM-XL allows design loads in excess of 150,000 lbs (63,000 kgs). All TUFFBOOM® barriers include patent-pending shackle free connections and built in safety grips for the most reliable TUFFBOOM ever.
BoatBuster® was developed for turbulent, high flow areas commonly found in tailraces, spillways and across large expanses of water. These robust booms come in 2 sizes: 36 in (0.91m) and 48 in (1.22m). Alloy chain connections between units and large surfaces for warning graphics make the BoatBuster® series an excellent boat barrier choice for your tailrace and high velocity canals.
TUFFSign™ was developed to address the higher rates of fatalities and injuries at ungated overflow dams and especially at low head dams where a safety barrier with minimal debris retention is desired. Units are typically spaced between 25 to 50 feet (7.6 to 15.2m). Large signage warns boaters of the dangerous dam ahead while the double row of cable prevents boats from passing the boom line.
Multi-Purpose Permanent Booms
Northern regions typically above 45-deg are challenged by winter ice and temperature extremes. Worthington's TUFFBOOM barriers are successfully installed in far north climates in reservoir applications where the Spring freshete is not severe. Worthington understands ice and its effects. We offer a range of multi-purpose booms are designed for permanent installation in the most severe conditions. Worthington's multi-function HDPE pipe and multi-purpose steel pontoons are available in diameter ranges up to 48" and lengths up to 50 feet.
Multi-Function All-Season Booms
Worthington has nearly 20-years of specialized knowledge designing booms for tough environmental conditions. We also offer our clients a range of solutions rather than a single product platform. Our clients appreciate that we provide solutions tailored to their specific site conditions and that we support those solutions with proven engineering & design integrity. Our multi-purpose booms work to retain and stabilize ice to reduce frail accumulation and reduce the risk of flooding. As debris booms , they prevent debris from block spill gates and entering water intakes. As Public Safety Boat Barriers, they provide an effective solution to keep boaters from restricted or dangerous areas. One boom, multiple functions.
Susquehanna River Ice Boom
The Lower Susquehanna River in Pennsylvania (USA) is one of the most severe rivers in the United States. Set on a massive watershed and subjected to hurricanes and tropical storms, this river can quickly transition from tranquility to a raging tempest. Only an experienced boom manufacturer like Worthington has the understanding to be able to design booms for these conditions. Our multi-function steel pontoons shown here feature high visibility powder coatings, relief valves, lifting lugs and bottom skirts for added debris and ice deflection. When ice is not flowing, these booms serve to deflect debris and act as a Public Safety Boat Barrier during recreation season.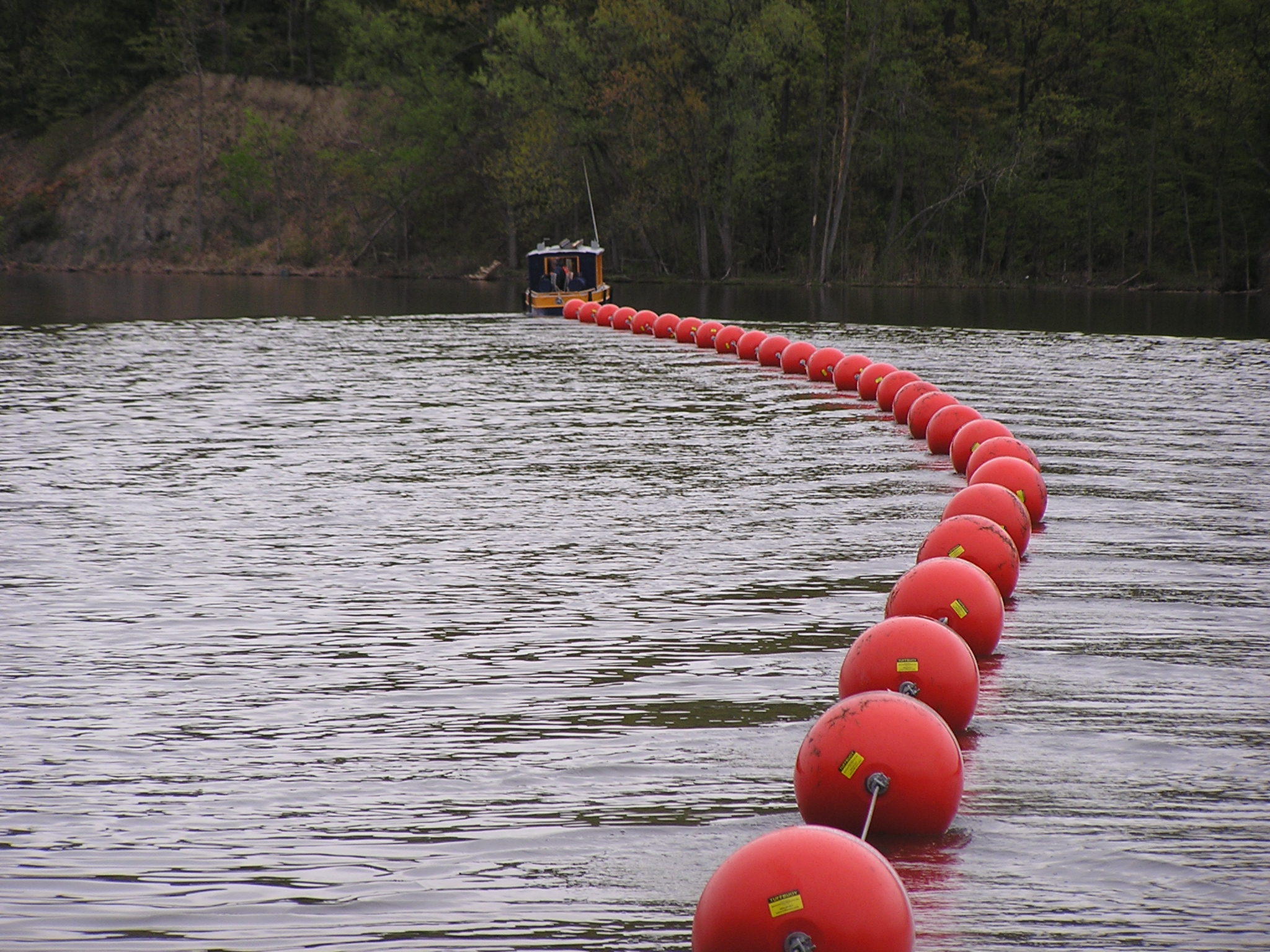 TUFFBUOY is a complete brand of safety buoy & floats used for dam safety, navigation & marine use at dams, parks, marinas, harbors and other waterfront structures.
Worthington's TUFFBUOY® line includes round and oval safety floats of varying diameters and lengths, float collar can buoys, regulatory buoys, marine lanterns and hardware. TUFFBUOY is a economical line of buoy products to satisfy your basic public safety needs.
This unique installation at a Pennsylvania water supply dam features our oval 24" x 36" floats with a thru-pipe to allow cable to pass and BoatBuster style vertical mooring buoys to connect to large concrete anchors deep beneath the surface. The 800-ft (long barrier keeps recreational boaters on this lake from going over the 50-foot high ungated overflow dam just 200-ft (61m) beyond the boom line. Worthington's buoy experts can help you find the right buoys and the right design for all your public safety needs.
TUFFBUOY® safety floats are available in both round and oval configuration with either open pipes extending through the units or capped at each end with swivel eyes. Sizes range from diameters of 13" up to 48". Worthington offers all hardware, wire rope, shackles, clips, chain and anchors so you don't have to. One call to Worthington will satisfy all your buoy needs.
Our can buoys come in vertical regulatory style in diameters of 9" and 13" or as float collar can buoys with stainless eyebolt connectors on the side or bottom. For swift currents or high wind areas we offer a self-righting external ballasted design. All of our can buoys feature high-visibility quality graphics and symbols.
Complement your buoy or boom line with our 1NM or 2NM solar powered marine lanterns,